Dionne is very professional and is amazing with my two dogs; they both adore her and enjoy their walks and time at the day care centre. It has helped my youngest to become much more social around other dogs and they both come back tired out from such a good day of activities and fun.
I was looking for somewhere that my puppy could go and would be completely safe and get the same kind of care and attention that he would at home. The thought of sending him off for the day while I had to work was horrible but Dionne has been fantastic and I couldn't recommend her and Cuddles-A-Plenty more. Alfie absolutely loves going there he runs down and out to the pick up car every morning and comes back so tired from having such a great day. The pictures that are put up throughout the day are a great touch as it is so nice to see Alfie having fun and socialising with the dogs all day. We now send him once a week as he enjoys it so much and because of how fantastic Dionne and her team are. I would really recommend them to anyone. I never have any worries when Alfie is there and it is great to see how much he enjoys it there.
I found Dionne of Cuddles-A-Plenty by chance when looking for someone I could totally trust to look after my puppy Rosie whilst I was at work. That was almost two years ago. Dionne is fantastic with animals. She is so friendly and caring and clearly loves being with them. The new day care centre is brilliant too. I highly recommend Dionne and I feel totally at ease leaving my dog with her.
A Fun Time at Doggy Day Care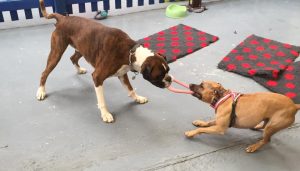 All dogs are kept in small groups, to ensure we can give the best care and attention at all times.
We are very excited to announce the opening of our new Doggy Daycare Centre which recently turned one in April 2017!!
This is the perfect place for your beloved dogs to spend their days whilst you are busy. They will make lots of new friends, spending time having fun with the staff and other dogs.
We have large indoor and outdoor areas with different toys for each, including paddling pools and hose pipe games for outside in warmer weather!
All dogs will have an assessment prior to joining and will be sited in an area of the unit with other dogs of similar personalities.
For those of you who have bought a new puppy into the family, our daycare centre is a great way for them to socialise with other dogs – this is extremely important for young puppies to encourage them to grow up confidently around other dogs.
Puppies have their own dedicated area of the unit and will only progress into one of the main areas, when fully ready.
You are more than welcome to come along and view the daycare centre at any time during our opening hours. However, please ensure you make an appointment before bringing your dog with you. This is to make sure there will be an appropriate member of staff available to run the initial assessment.
Following a successful assessment, you are then welcome to book your dog into the daycare centre as often as you like.
All dogs must be presented with an up to date vaccination certificate on their first visit and again on renewal of the vaccinations.
All dogs must be regularly treated for fleas & worms.
All fully grown male dogs must be neutered before being able to attend the centre.
No female dogs can attend the daycare centre whilst in season or due to be in season.
DAILY RATES
Single full day 1 dog £25.00 (7:30am – 6:30pm)

Single half day 1 dog £15.00 

(Any five & half hours to suit you)

Single full day 2nd dog from same family £22.50

Single half day 2nd dog from same family £13.50

1 hour visit per dog £5.00
No multiple dog household discounts available on the hourly rate.
BOOK IN ADVANCE
Book and pay for 5 full days in advance and receive 10% off.

5 full days 1 dog £112.50

5 full days 2nd dog from same family £101.25
No discounts are available for booking blocks of half days or hourly visits in advance.
If you are going away for a few days, know you're going to be busy at work, moving house…..or whatever reason…..we would love to give your dog a home away from home. 
Monday to Friday, your dog will enjoy plenty of fun at our new doggy daycare centre, before returning home with us as one of the family for the night.
During the weekends, dogs boarding with us are free to play with our dog and socialise under strict supervision with any other dogs we may be walking that day. 
We live within a 5 minute walk to large country park where the dogs enjoy running around the fields and exploring through the trees! Great fun is always had by all!
We are fully licensed with the Broxtowe Borough Council to board dogs of all ages within our home.
We usually offer boarding for dogs from one family at a time to provide a more personal touch. However, we are licenced to board dogs from two separate families, if both families agree.
To use our Dog Boarding services, your dog must be regularly wormed, treated for fleas and vaccinated with proof of your vaccination certificate being provided.
To avoid tummy upsets, please provide your dog's usual food to be given at his/her routine feeding times.
Due to the licensing conditions, no un-neutered adult male dogs and no female dogs, in season, may be boarded.
OVERNIGHT BOARDING
Any number of overnight stays can be added to the full day care price of £25 per day for just £5 per dog, per overnight stay.
Block booking discounts cannot be used for overnight/holiday boarding.
To determine the price of holiday boarding, we would just need to know how many full days your dog would be with us and how many overnight stays are required. This would then simply be charged at £25 per full day plus £5 per overnight stay for each dog.
Dog Boarding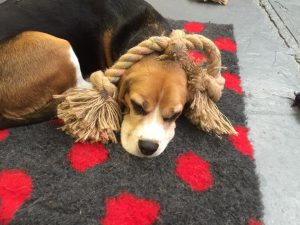 Dog Walking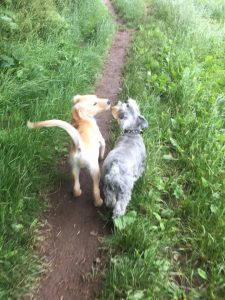 There may be a reason you feel day care might not be best suited to your dog and would prefer one of our exciting walks instead.
Or perhaps you love the idea of Doggy Day Care but would prefer a shorter session for your dog without having to leave work early to collect him/her before the end of the day.
Our day care/walks could solve these problems for you.
For the same price as a day at the centre (£25) you can now choose from the following two options, providing you live within five miles of the day care centre, NG6 8AW:
Option one would be for us to collect your dog from your house and transport him/her, safely crated, in our fully insured vehicles to the day care centre. Your dog would then spend between 3 & 5 hours with us, socialising and playing with some of the other dogs before being safely transported back again. You can return home from work happy in the knowledge that your dog has had a fun packed, joyful day without you having to lift a finger!
Option two would be for your dog to join us on one of our exciting walks which last between 60 & 90 minutes. We visit different places during these walks, so not the same old field every day and the maximum number of dogs walked at any one time is four. This means more individual time can be spent with each dog so if you have problems with your dog such as pulling on the lead or not coming back to you when called, these can be worked on during our time together. Your dog would be out of the house for up to 3 hours in total (including travelling time and collecting other dogs booked onto the same walk)  and must get along with other dogs.
Each walk is tailored to the individual and one dog is only walked with others if their needs are similar.
You will receive regular updates of things your dog enjoys and if we come across anything he doesn't particularly like, along with tips on how to overcome any problem behaviours.
Having many training courses under our belts, such as:
IMDT Loose Leaders
IMDT Happy Re-callers
IMDT Two Day Career As A Dog Trainer
IMDT Four Day Practical Instructor Course
In addition to ongoing courses such as:
Level Three Accredited Canine Behaviour Diploma Course (British College of Canine Studies)
Canine Health & Nutrition Diploma Course (British College Of Canine Studies)
You can be sure you are entrusting your dogs to someone who is always willing to go that extra mile in providing the best service possible.
DBS checked, proud members of PIF (Pet Industry Federation) and committed to providing a force free, stimulating, happy time for your dogs – exactly what your dog deserves!
Our exciting walks last between 60 & 90 minutes and your dog could be out of the house for up to three hours in total for just £25 per dog.
Bringing a new puppy home is very exciting but it is extremely important not to leave them alone for too long during those impressionable first few weeks & months.
Once they are fully vaccinated, coming along to our day care centre, where we have a separate area for puppies, is perfect for them to learn how to socialise with other dogs and receive lots of play time, stimulation and cuddles! Until that time, we offer temporary 30 minute puppy visits at your own home, providing you live within 5 miles of the day care centre (NG6 8AW).
During the home visits, we will follow any instructions you provide but they usually involve a toilet break in the garden, free play in the house/garden, feeding, and short walks around the garden on the lead to help get puppy used to that foreign object they all hate so much to begin with!!
The home visits are a temporary measure and available until your puppy is fully vaccinated and able to socialise with other dogs so can attend the day care centre or join in with our exciting 60 minute dog walks.
DBS checked, proud members of PIF (Pet Industry Federation) and committed to providing a force free, stimulating, happy time for your pups – exactly what they deserve!
Our puppy home visits are available Monday to Friday between the hours of 9am & 4pm for postcodes within 5 miles of NG6 8AW.
Each visit lasts a total of 30 minutes and costs £15.
Home Visits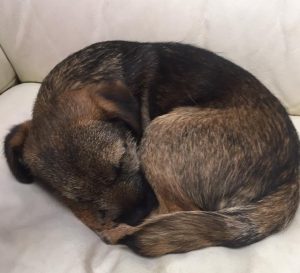 Pet Taxi
We are fully insured to collect and return your dog for you at a rate of £5 per journey. This applies to households within 5 miles of the day care centre (NG6 8AW). We may still be able to help if you live outside of this area – Please contact us for a price. A 2 hour time slot would be required for collection or drop off. We could not guarantee an exact time.
This service operates between the hours of 7:30 am to 6:30 pm.
All items we choose for our shelves are items we have tested ourselves and are happy to feed/use with our own dogs. All toys are vigorously tested with the day care dogs so we can answer any questions honestly regarding their suitability for your dogs.
However, we are happy to stock any other items on request so if you have a favourite food, toy or accessory you would like us to stock or maybe something you have been wanting to try but not sure if it would be right for your dog, just let us know and we will happily test it for you so you don't have to risk wasting any money.
Please simply click on the 'Shop' tab at the top of our homepage to view the items we currently have available. These can be purchased online or by visiting our actual shop at Cuddles-A-Plenty, Unit 5 Newcastle Street, Bulwell, Nottingham. NG6 8AW. For online purchases, we are happy to provide free UK delivery for all orders over £45 and free local delivery, within Nottinghamshire, for all orders over £25.
Get involved and let us know what you would like us to stock!