What an amazing place! Sherlock loves it here. Richard and Dionne are fantastic and it's such peace of mind knowing that Sherlock is having a great time whilst I'm at work. Great value for money too. I highly recommend Cuddles A Plenty!
Excellent service. It's so good to see buffy socialising with other dogs. She was timid on her first session, but already she's much more confident and seems to really enjoy it!!! I can go to work knowing she's well looked after and having fun!!!
We've used Cuddles A Plenty for just over a year now. And, this weekend, I realised a clear example that demonstrates how valuable an investment it can be for your dog.
After discussing training methods with Dionne on Thursday, we decided to give 'Clicker Training' another go at home. She sells them in their shop. So I picked one up, and clicked it. My dog sat down immediately and locked her eyes on me.
You see – the centre has clearly been Clicker Training our dog for the past year. To such an extent, that in one weekend we've managed to make major strides in adjusting some unwanted behaviour (barking at the TV.. rushing the front door..). All because of the positive association they've created and enforced with clickers over the past year.
In summary, the service offered on the surface at Cuddles is you can go about your day and not have to worry about your dog's wellbeing. However, underneath that, letting your dog go to Cuddles gives them an opportunity to thrive and develop into the well-balanced dog we all want in our lives.
It's no surprise they have the number of positive reviews that they do!
A Fun Time at Doggy Day Care
All dogs are kept in small groups, to ensure we can give the best care and attention at all times.
Cuddles-A-Plenty is not just a safe, fun place to leave your dog when you cannot be there yourself…..we offer so much more than that….
Yes, we have the perfect place for your beloved dogs to spend their days while you are busy. They will make lots of new friends, spending time having fun with the staff and other dogs but their individual needs will be catered for and each & every one of them will be treated as though they are our own.
We wouldn't want our dogs to simply be let loose to run wild with any number of other dogs, with maybe the odd ball thrown for them here and there – so we would never find that to be an acceptable level of care for your dogs either. This is why all dogs are kept in small groups with lots of 1:1 interaction and individual attention.
We wouldn't want our dogs to be given their dinner or treats within reach of any other dog. We would prefer them to be able to take their time with their food and not worry about it being snatched away from them. This is why we have a dedicated feeding area where dogs receive all food items on a totally individual basis – no matter how small the treat or how quickly it can be eaten, you would never have to worry about food squabbles in our care.
We wouldn't want to confuse our dogs when it comes to toileting by sending them somewhere that does not have access to an outside area. This is why we spent over a year waiting for the right property to come our way with a large outdoor space for fun, games (including water games in Summer!!) and those all important toilet breaks.
We wouldn't want to be worrying about how cold our dogs were in the Winter months – and lets face it – we have long Winters!. This is why we insisted upon having state of the art infa-red heating systems installed to ensure your dogs are kept toasty warm, no matter what the weather outside.
We wouldn't want our new puppy to be put straight in with older/bigger dogs and risk a negative experience. This is why we have a dedicated puppy area with teething toys, a sensory board and lots of enrichment activities with regular outdoor toilet breaks to assist with training.
We would want our dogs to be treated with the love, care, respect and total devotion that they get from us at home – and that's exactly what all dogs who come to Cuddles-A-Plenty receive.
You are more than welcome to come along and view the daycare centre at any time during our opening hours. However, please ensure you make an appointment before bringing your dog with you. This is to make sure there will be an appropriate member of staff available to run the initial assessment.
Following a successful assessment, you are then welcome to book your dog into the daycare centre as often as you like.
All dogs must be presented with an up to date vaccination certificate on their first visit and again on renewal of the vaccinations.
All dogs must be regularly treated for fleas & worms.
All fully grown male dogs must be neutered before being able to attend the centre.
No female dogs can attend the daycare centre whilst in season or due to be in season.
DAY CARE PRICES FOR ONE DOG
Full day session (7.30am-6.30pm) £32.00
Morning session (7.30am-12.30pm) £16.00
Afternoon session (1pm-6pm) £16.00
Flexi session (Any 6 hours to suit you) £22.00
BLOCK BOOKINGS
All block bookings are valid for 12 weeks from the date of purchase. No block booking discounts are available on the flexi 6 hour sessions.
Book and pay for 10 full day care sessions or 10 morning/afternoon sessions in advance and receive 10% off.
10 full days 1 dog £288
10 morning or afternoon sessions 1 dog £144
Book and pay for 20 full day care sessions or 20 morning/afternoon sessions in advance and receive 20% off.
20 full days 1 dog £512
20 morning or afternoon sessions 1 dog £256
FAMILIES WITH TWO DOGS.
We appreciate that owning more than one dog can become quite expensive. Therefore, we are happy to offer the following fixed price (no further discounts are available) for second dogs from the same family
Full day session (7.30am-6.30pm) £25.60
Morning session (7.30am-12.30pm) £12.80
Afternoon session (1pm-6pm) £12.80
Flexi session (Any 6 hours to suit you) £22.00
No discounts are available on the Flexi 6 hour sessions. Any bookings receiving a discount for multiple dog households must have the same address printed on both vaccination cards and both dogs must be dropped off and collected at the same time.
Dog Walking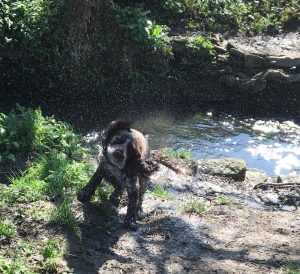 There may be a reason you feel day care might not be best suited to your dog and would prefer one of our exciting walks instead.
Or perhaps you love the idea of Doggy Day Care but would prefer a shorter session for your dog without having to leave work early to collect him/her before the end of the day.
Our day care/walks could solve these problems for you.
For the same price as a day at the centre (£32) you can now choose from the following two options, providing you live within five miles of the day care centre, NG6 8AW:
Option one would be for us to collect your dog from your house and transport him/her, safely crated, in our fully insured vehicles to the day care centre. Your dog would then spend between 3 & 5 hours with us, socialising and playing with some of the other dogs before being safely transported back again. You can return home from work happy in the knowledge that your dog has had a fun packed, joyful day without you having to lift a finger!
Option two would be for your dog to join us on one of our exciting walks which last between 60 & 90 minutes. We visit different places during these walks, so not the same old field every day and the maximum number of dogs walked at any one time is four. This means more individual time can be spent with each dog so if you have problems with your dog such as pulling on the lead or not coming back to you when called, these can be worked on during our time together. Your dog would be out of the house for up to 3 hours in total (including travelling time and collecting other dogs booked onto the same walk) and must get along with other dogs.
Each walk is tailored to the individual and one dog is only walked with others if their needs are similar.
You will receive regular updates of things your dog enjoys and if we come across anything he doesn't particularly like, along with tips on how to overcome any problem behaviours.
Having many training courses under our belts, such as:
IMDT Loose Leaders
IMDT Happy Re-callers
IMDT Two Day Career As A Dog Trainer
IMDT Four Day Practical Instructor Course
In addition to ongoing courses such as:
Level Three Accredited Canine Behaviour Diploma Course (British College of Canine Studies)
Canine Health & Nutrition Diploma Course (British College Of Canine Studies)
You can be sure you are entrusting your dogs to someone who is always willing to go that extra mile in providing the best service possible.
DBS checked, proud members of PIF (Pet Industry Federation) and committed to providing a force free, stimulating, happy time for your dogs – exactly what your dog deserves!
Our exciting walks last between 60 & 90 minutes and your dog could be out of the house for up to three hours in total for just £32 per dog.
Pet Taxi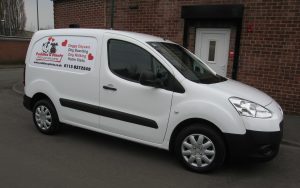 We are fully insured to collect and return your dog for you at a rate of £6 per journey. This applies to households within 5 miles of the day care centre (NG6 8AW). We may still be able to help if you live outside of this area – Please contact us for a price. A 2 hour time slot would be required for collection or drop off. We could not guarantee an exact time.
This service operates between the hours of 7:30 am to 6:30 pm Monday to Friday (excluding bank holidays).