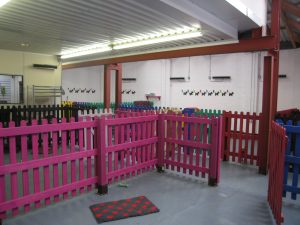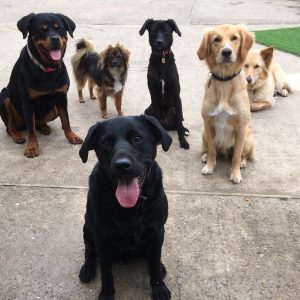 Since 2013, Cuddles-A -Plenty has been established as a home based pet sitting service. In 2016, we expanded into a doggy daycare centre and it is a dream come true!
We still maintain those home values and services, only now we also have a retail shop offering natural healthy goodies and lots of room for dogs to play in our new day care centre. The centre has different play areas so dogs can remain in their favourite friendship groups without feeling under pressure to mix with all the different dogs. Puppies have their own dedicated area.
---
Who We Are
An introduction from the founder – Mrs Dionne Bacon
We are a family run business who have a lifelong love of animals and lots of experience looking after a variety of our furry friends.
Over the years, our family has included many loved ones, from the smallest (tropical fish) to the largest (horse) with all sorts in-between – Hamsters, Guinea Pigs, Rabbits, Chinchillas, Cats, a Gecko, a Pony & of course, Dogs!
Regular bookings are welcome as are bookings on a more ad hoc basis.
For your "Peace of Mind"
At Cuddles A Plenty our ethos, values and aim is to provide a one stop service for everything to do with dogs. We encourage traineeships, apprenticeships and employment for young and local people. The toys and accessories we supply for use with dogs are environmentally friendly and ethically produced with your dogs "well being" always at the centre of everything that we do.
We are also:
DBS / Police checked

Fully insured

Our Doggy Day Care Centre is fully licensed with Nottingham City Council

All of our products are competitively priced and our services provide great value!
Qualifications and courses that I have completed so far are:
Ofqual Regulated Level 3 Professional Day Care and Boarding
IMDT (Institute of Modern Dog Trainers) Career as a Dog Trainer Course
IMDT Practical Instructor Course
IMDT Loose Leaders
IMDT Happy Recallers
Stonebridge Associated Colleges – Diploma in Animal Care
Raw Feed Advisor Course for Natures Menu
Lawrence Vets –  Animal First Aid Course
Dog First Aid Ltd – Dog First Aid Course
I am currently studying:
Canine Health & Nutrition Diploma – British College of Canine Studies.
Level 4 accredited Advanced Canine Behaviour Diploma Course – British College of Canine Studies.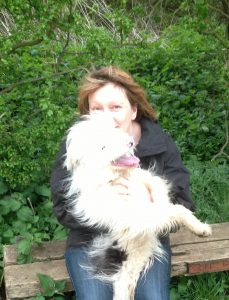 Our Vacancies
We are currently fully staffed right now however, please keep a look out on this portion of our website for updates regarding new upcoming positions at Cuddles A Plenty.