News
A very warm welcome to the "Cuddles A Plenty" news page. Here we will bring to you the latest news about our doggy day care centre aswell as local information regarding dogs and associated events in the Nottinghamshire area.
David Browne
We shall be attending the following events to help support the local charities. Please do pop along to say hello if you can. We will have information on our daycare centre available and discounted items from our shop with us, so grab a bargain while supporting a local charity.
The Jerry Green Fun Dog Show……..GLASTONJERRY!!
This is one of our favourite shows which we are thrilled to be supporting for the third year running.
It is sooo much fun, has live entertainment and you can even make a weekend of it and camp over! Come and join in the fun – you won't regret it.
Sunday 5th May & Monday 6th May 2019 at Newstead Abbey, Nottingham, NG15 8NA.
If you know of an Animal charity event or Fun Day that needs our support then, please contact us and let us know!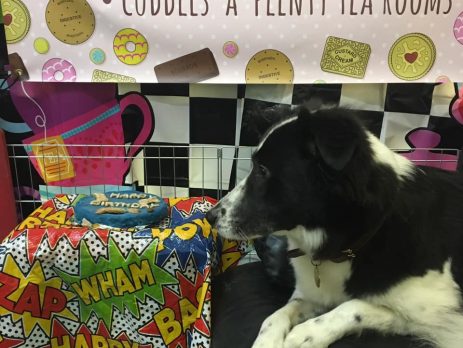 David Browne
At the start of 2017, we decided to start a new tradition for us here at Cuddles-A-Plenty. We always love a good party and showing the dogs a good time, so what better excuse for a party than the dogs own birthdays?? We have decided that whenever a dog happens to be booked into day care on his/her actual birthday (or 'Gotcha day for the lovely rescue dogs whose birth dates are unknown) there just has to be cake and party games!!
Birthday Parties 2019…..
1st February – Sam – the adorable Collie rescued from the streets of Romania by the brilliant charity 'One Paw at a Time Dog Rescue'.
Sam was lovingly adopted by Rachel & Ben and has certainly fallen on his feet!
Sam often visits our day care centre for play days – his mum calls it 'nursery'…..we love that! They also visit our retail shop regularly for Sam's raw food & healthy treats – nothing but the best for this gorgeous boy.
Sam celebrated his birthday with us last year and we are so very glad he did the same again this year.
Happy 4th birthday Sam. We love you very much xxx